PRODUCTS
Wiise
A clever ERP and accounting software to run your business

Big business smarts at an affordable price
When your business grows beyond managing the books, Wiise ERP and accounting software moves with you. Manage all your operations and payroll in the cloud, in one hub
illuminance Solutions is a Wiise Hero Partner. The clever ERP and accounting software is m
ade to fit the Australian market, built by locals who know how you work. Wiise is ERP software that manages your accounting, payroll, bank feeds, inventory, CRM and more in one place. Clever cloud tech that you can access anywhere, anytime, from any device.
More than just accounting software, Wiise is clever business software designed to streamline processes and run your entire business in one hub. Check out the video to find out more!
Seamless connection with Microsoft tools and platforms
Work in your familiar, everyday tools, connected at no extra cost
Wiise helps you manage your customers, sales, projects and jobs end-to-end to help you get a clearer picture of your business at every level. Compare your budgeted projects with your actuals so you can paint a clearer picture of just how profitable and on time your projects really are. See the inner workings of your projects clearly so you can quote the right amount every time.
This includes:
Vertical, localised charts of accounts designed by experienced accountants
Bank feeds to save time
E-payments with a local app
Payroll handling single touch and awards
Designed to handle the needs of growing Australian businesses, Wiise brings accounting, operations, inventory, people and more into one hub. Here are some of the features.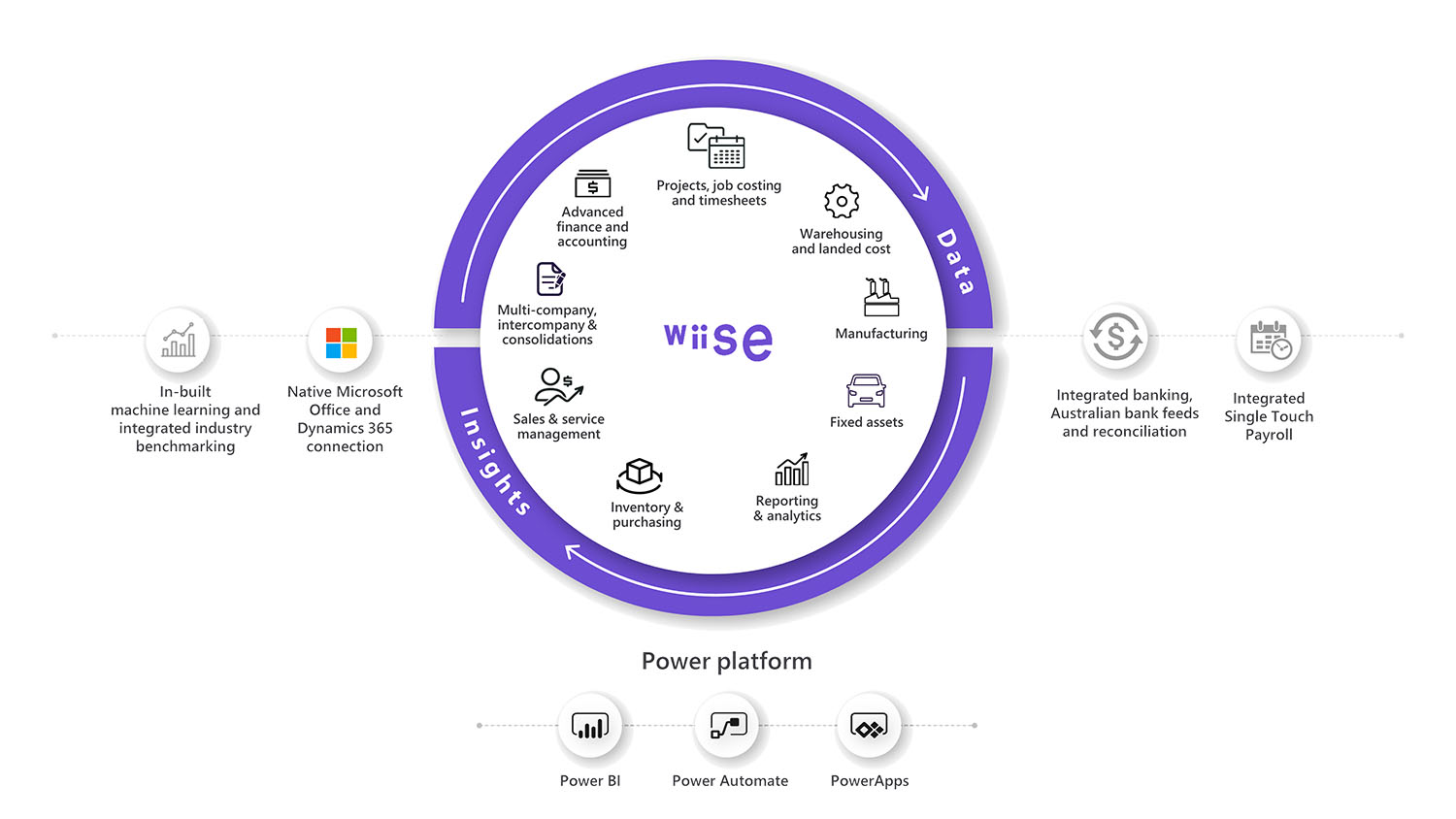 For businesses who've grown beyond managing the books
Wiise clients come from a broad range of industries – each with their own challenges and unique needs. They have one thing in common, though and that his that they run successful businesses but have moved on from managing the books. So you need a system that can grow with your increasing transactions and keep up with changing operations. You're struggling to manage your business in multiple, out-dated or on-premise systems. So you can't work remotely or report on your information easily. And you often have chunky, manual processes and also looking to move to the cloud to be more efficient, access data on the go and streamline your processes.
Made for the Australian market, Wiise is more than just accounting or financial management software – it is clever ERP software that manages your finances, payroll, bank feeds, inventory, HR, CRM and more in one hub. Wiise is made for Australian businesses including;
Warehousing and distribution
Financial services
Professional services
Multi-company entities
Manufacturing
Non-profits
Clubs and associations
Job-based businesses
Big business smarts at an affordable price. Streamline your day with Wise
Outgrowing your existing software? Find out how moving from outdated or limiting software to an ERP solution can help your business scale. Get your info pack today and start planning for 2021!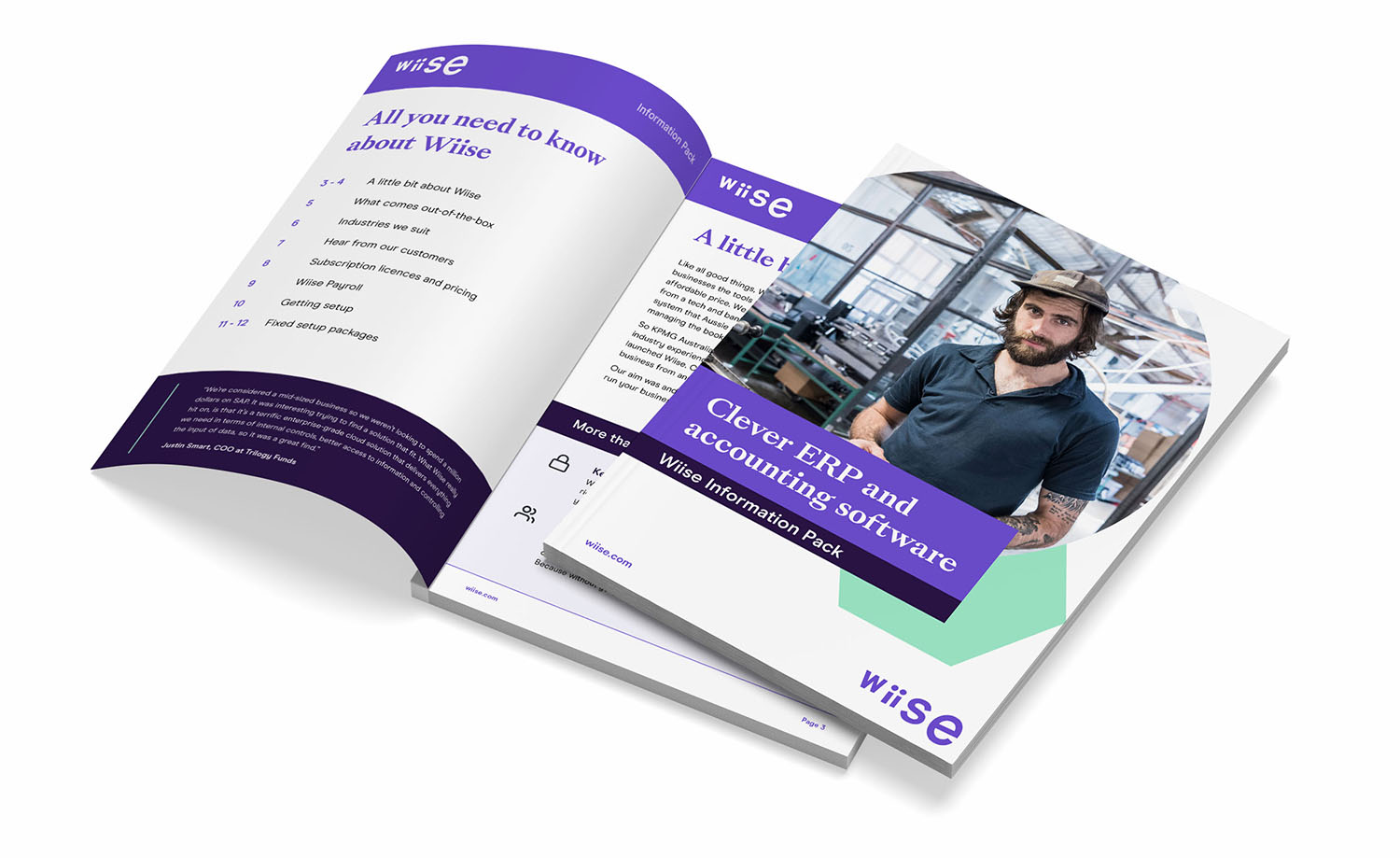 Supported by industry experts
Created by KPMG, built on Microsoft, backed by CommBank — leaders in their fields
Wiise was created by KPMG Australia, built on Microsoft software and supported by Commonwealth bank. The three formed a strategic partnership to create a new clever software that would help small and medium sized enterprises manage accounting, payrolls and banking, HR, inventory and manufacturing. Supported by a wealth of experience, Wiise is the next big step for any small and medium business.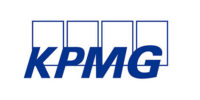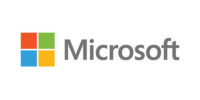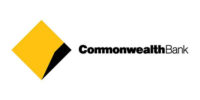 illuminance Solutions is a Microsoft Gold Partner and a 2019 Microsoft Global Partner of the Year: Partner for Social Impact.