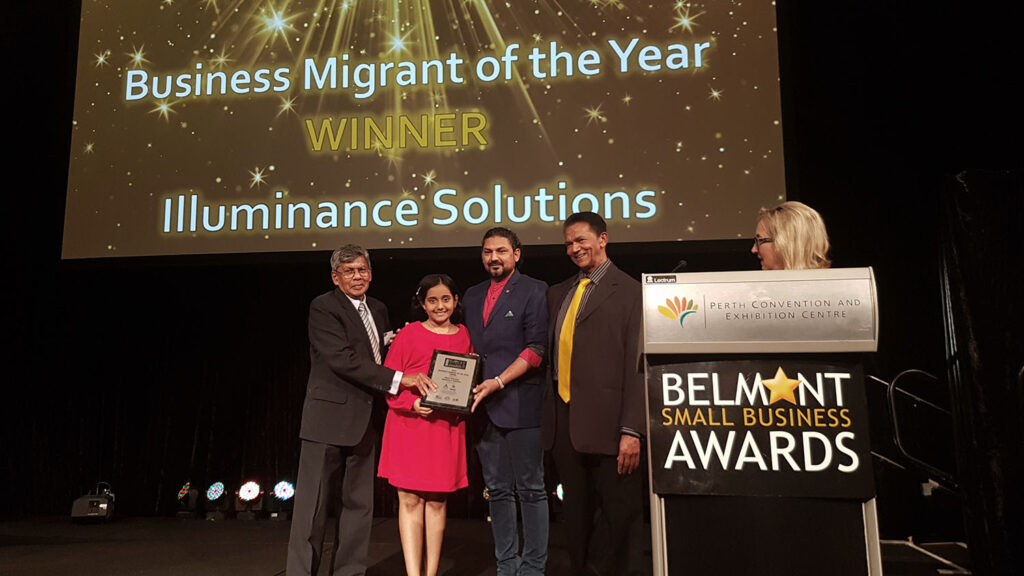 Nilesh was accompanied with his niece to receive the award on behalf of illuminance Solutions.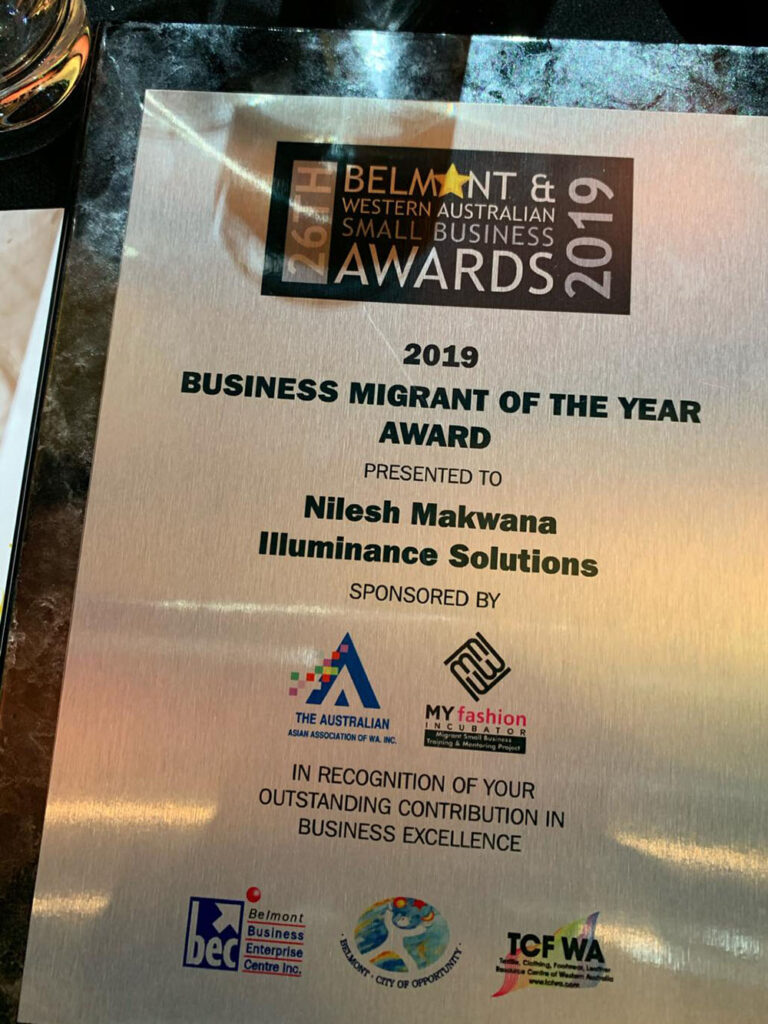 "In recognition of your outstanding contribution in business excellence."

Anyone that has made the big decision to move abroad will say that while it is very exciting and a life-changing experience, it also has its challenges. Not only are you maybe leaving family behind, but most definitely you are leaving your friends, connections and relationships, and most likely your language and culture as well.
To start a new life on a personal note is one thing, and to start a new life professionally can be another. The founders of illuminance Solutions, Nilesh Makwana and Vincent Lam are both immigrants to Australia and has both succeeded in creating a new life for themselves in Perth Western Australia. But they have also succeeded in creating employment and giving many other immigrants as well as locals opportunities to excel and build their careers with illuminance Solutions. The result is a highly diverse team that includes multiple cultural backgrounds, nationalities, people with disabilities, balance between genders and a wide age group. Nilesh and Vincent has surrounded themselves with a quality crowd of people, and continues to use their technical skills and people skills to create solutions that has a social impact in the community and the sectors that they cater solutions to. It is this reasoning, that as immigrants, they have not only created their own pathway but continues to lay down bricks for others to step on that makes their contributions and efforts worthy of this award; Business Migrant of of the Year 2019.
Excerpt from the nomination:
Nilesh Makwana is the Chief Executive Officer of illuminance Solutions, and leads a Global award-winning information technology (IT) team alongside Principal Consultant Vincent Lam, both migrants to Australia. His business is providing tailor-made solutions in government, private and nonprofit spheres across Australia. Offering digital strategy and planning services, Nilesh and illuminance Solutions helps organisations achieve optimal levels of efficiency, to meet stringent compliance requirements and enhancing user friendliness for their clients with their cloud-based, state of the art technology.
Services provided by Nilesh and illuminance Solutions also include project and change management, software training, customer engagement and management, and business information and analytics, and his team and business partner Vincent Lam are well aligned with Nilesh's Karmic Managenent style and Vincent's Servant Leadeship. Nilesh brought with him his style of management from India, while Vincent's background from Hong Kong has inspired his applied management style of Servant Leadership, and both styles has proven to be a positive contributor to illuminance Solutions' success.
Karmic Management is a style of management and leadership that states that helping others become successful is the key to success, and Nilesh is applying this thinking in every step he takes with his business, his team and his clients. Karma is a concept in Hinduism and Buddhism that states that the actions and energy you send out will return to you eventually.
Servant Leadership is a leadership philosophy in which the main goal of the leader is to serve. This is different from traditional leadership where the leader's main focus is the thriving of their company or organisations.
From the nomination:
The three key strengths that makes illuminance Solutions shine

Responsible management includes providing an environment which articulates the values and mission of an organisation. While other companies 'talk the talk', illuminance Solutions 'walks the walk' – with all actions relating back to the values of living life with purpose and delivering on the focus of social impact for the good of the community.

Whether it be the staff or the clients, illuminance Solutions embraces diversity and inclusion. This has recently been recognised with the achievement of the Business News Rising Stars Award 2019 – Diversity. Employees from diverse backgrounds and abilities are given every opportunity to provide input into the success of the company in an environment that allows space to find their magic. This has led to a team who, with personal accountability and high skill sets, are committed to providing the best service to each other, the company and their clients.

Tailor-made solutions are an integral part of illuminance Solutions' success. The Microsoft based platforms for different sectors have been developed with the understanding that not all organisations are the same – they have different clientele, different levels of digital requirements, and differing financial constraints.
Illuminance Solutions is a Microsoft Gold Partner and a 2019 Microsoft Global Partner of the Year: Partner for Social Impact.

Talk to us about how to improve your customer service, optimise your resources and use technology to deliver innovative solutions.