Harmony Week originated in Western Australia and is this State's seven-day celebration and recognition of its cultural diversity. The initiative began as Harmony Day, celebrated on 21st March every year and today all of Australia celebrates Harmony Week! The event was renamed Harmony Week to recognise diversity and multiculturalism, and inclusion activities that take place during the entire week.
Celebrating Harmony Week can take any form – big or small, simple or challenging. Events can be a simple multicultural morning tea or a guest speaker at an all staff meeting and the event creates an opportunity to think, talk about and recognise how our differences and our similarities make our workplace stronger. The team at illuminance had decided to wear orange clothes on Friday 19th March to mark Harmony Week, as it is the chosen colour for Harmony Week.
Why orange? Someone would say it's because orange is the new black. This may very well be true, but it really is the colour chosen to represent Harmony Week as it signifies social communication and meaningful conversations. It also relates to the freedom of ideas and encouragement of mutual respect.
illuminance Solutions align with Harmony Week and what it stands for in many ways, also in terms of its branding as it is illuminance's primary brand colour, too!  All Australians are encouraged to wear something orange during Harmony Week, and we decided to do so as well on Friday 19th March. When planning this the team did not know that illuminance were going to take home the Multicultural Business Award on the night before. As so happened, wearing orange really turned out to  be a way of sharing our joy and celebrating our multiculturalism and diversity even more.
Western Australian Multicultural Awards 2021
illuminance Solutions was nominated in the Western Australian Multicultural Business Awards 2020 for its highly diverse and multicultural team. With the COVID-19 pandemic not letting us off the hook, the awards ceremony got postponed for a whole year.
At illuminance Solutions, we pride ourselves on our commitment to our multicultural team as well as to our clients. We genuinely strive to develop trusted relationships, and to understand our clients' businesses and their goals, all while sticking to our values, being inclusive and showing cultural sensitivity. As our CEO said while accepting the award on behalf of our team: "It is not easy being diverse and inclusive, as many of us, also immigrants, will have inherited bias. But acquired diversity, is something we can all have."
Excerpt from the emcee: "illuminance Solutions is leading the way in creating a workplace that thrives on cultural diversity. It ensures a space with people of all backgrounds to progress their careers, and driven by the leadership styles of karmic management and servant leadership Illuminance Solutions has built a community like approach with active collaboration within the team, the clients and with all of the stakeholders. illuminance Solutions led by example, their ethos resonates beyond the office right into the community, providing opportunities for people from culturally and linguistically diverse backgrounds."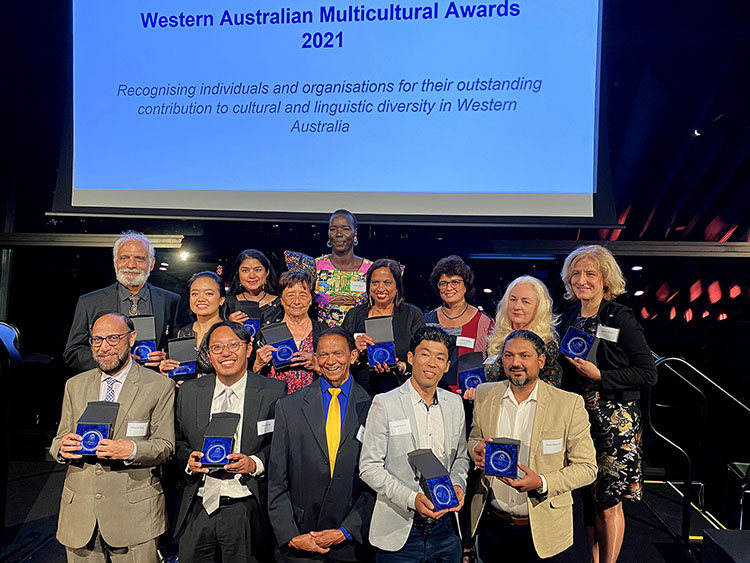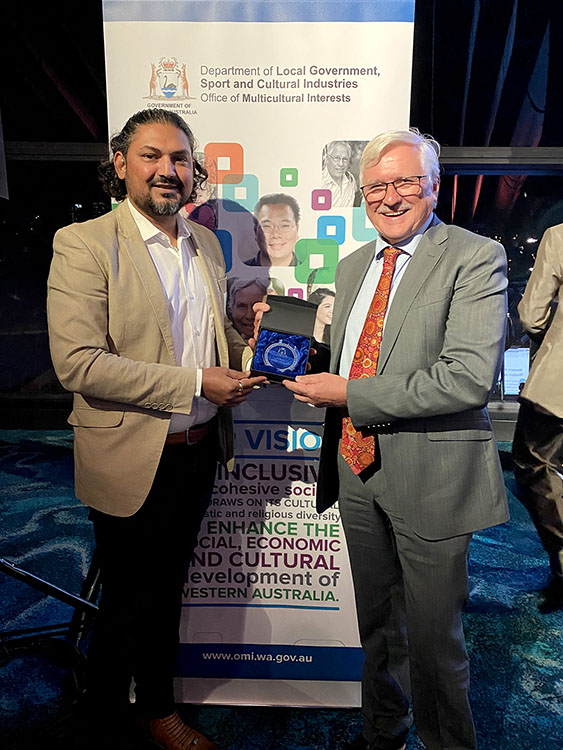 Nilesh Makwana accepting the award on behalf of the illuminance team from Duncan Ord OAM, Director General at Department of Local Government, Sports and Cultural Industries.
In Western Australia the Top 5 countries of birth are England (with 194,164 people), New Zealand (with 79,222 people) India (with 49,384 people), South Africa (with 41,008 people) and the Philippines (with 30,835 people). 
Among these countries, arrivals from the Philippines increased the most (78.9 per cent) followed by India 
(65.1 per cent) since the 2011 Census.
Perth has the second-highest percentage of people born overseas of all Australian capital cities (36.1 per cent) after Sydney (36.7 per cent).
WA's population speaks more than 240 languages and the Top 5 are Mandarin, Italian, Vietnamese, Cantonese and Tagalog. And did you know that 90% of Western Australians born in non-English speaking countries live in the Perth metro area?
The state's population also celebrates over 100 religions and Hinduism is the fastest growing religion followed by Islam and Buddhism.
Sources: www.harmony.gov.au/about & www.omi.wa.gov.au/
illuminance Solutions is a Microsoft Gold Partner and a 2019 Microsoft Global Partner of the Year: Partner for Social Impact.