When reforms to the National Disability Insurance Scheme (NDIS) were implemented across the country, one of the biggest restructures for disability service providers came in the form of information and communications technology (ICT) service implementation. Small service providers now have to look outwards for creative and innovative ICT solutions for service delivery.
Non-profit organisation WA Blue Sky One recognises the need to drive client-centric service delivery through ICT.
"WA Blue Sky is a small organisation initiated by a group of parents 25 years ago which offers flexible support options for people with disability to live in their own homes," Former NDS WA Operations Manager and now WA Blue Sky CEO Frances Buchanan said.
"Our continued delivery of individualised support in an NDIS world will require new technology and systems to assist us to track what we're doing and how it is working for people we support. Our Systems will need to be easily accessible to our staff delivering services on the ground, and integrate information such as support plans, rostering, NDIA claims and the recording of achieved outcomes across all our operations."
WA Blue Sky has turned to Illuminance Solutions to ensure it receives the best ICT platform available to suit the needs of its clients.
"We at Illuminance Solutions pride ourselves on being a people-focused business, and it's a great opportunity for us to pay it forward and help organisations benefit the most from innovative technology," Illuminance Solutions CEO Nilesh Makwana said.
"We received a Cloud for Global Good Funding from Microsoft to assist in building client-centric care management software AvantCare, and we have a responsibility to pass on the benefits to the not-for-profit sector."
"WA Blue Sky has great growth potential and we are happy to be part of this journey, doing our bit by providing technology support."

In 2016, Microsoft launched "A Cloud for Global Good," a book of policy recommendations for governments, industry and civil society to help ensure that the opportunities of technology are evenly shared, and that challenges facing society are identified early and practical solutions applied. In the year since that launch, Microsoft has supported the digital transformation journeys of countless businesses, nonprofits and governments, including Illuminance Solutions and AvantCare.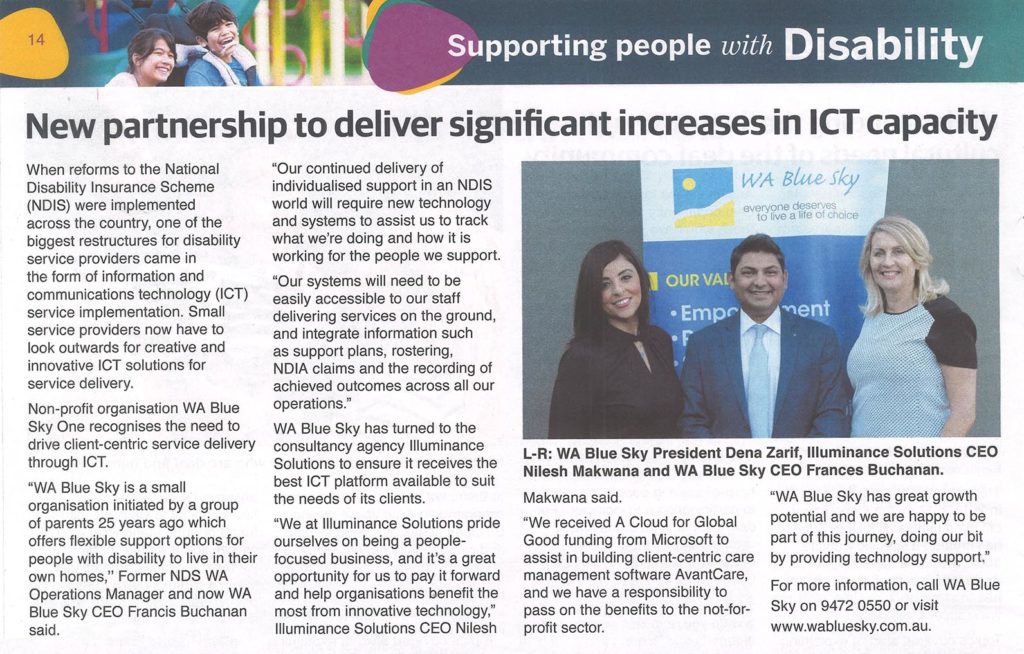 Article published in The West 22 June 2018.
Talk to us about how to improve your customer service, optimise your resources and use technology to deliver innovative solutions.