Being online and knowing the best online etiquette and how to stay safe can be overwhelming for any of us. Seniors are the fastest growing group online and with the training program Online Safety for Seniors by illuminance Solutions and Switched on Seniors, our silver surfers are taught how to see the difference between phishing emails and legit emails, amongst many other things to help secure their online presence.
Every year, seniors are scammed out of tens of billions of dollars, money they've spent their entire lives saving only to have it stolen. The elderly have always been a prime target for Internet scams because of a perceived vulnerability, and now because Internet use among seniors is on the rise.
The internet knows no age
While the internet itself is quite young with its 26 years amongst us, the fastest growing group of internet users on a global scale is our senior citizens. According to World Economic Forum, 70% of all seniors are now online. (July 2019.)
Internet security is something everyone should prioritise, regardless of age, so it is important to be aware of current threats and how to deal with them. With so many people online, the magnitude of scams is increasing.
Lower Digital Literacy = Lower Levels of Security
Half of seniors do not use the password feature on at least one of their internet- enabled devices, leaving it open to whomever may pick it up.
Seniors aged 65 and up are the fastest growing group of internet users. Sharing of personal information online, with platforms like Facebook and Twitter, in addition to the increased popularity of dating services and apps for seniors. Clicking on links in emails is often how scammers get access to personal information. Seniors are required to have an online presence as health services such as Medicare, AvantCare and My Aged Care, insurance providers, housing services, voting and financial services like the ATO are now online. Even doctor and dentist appointments are best managed using online tools!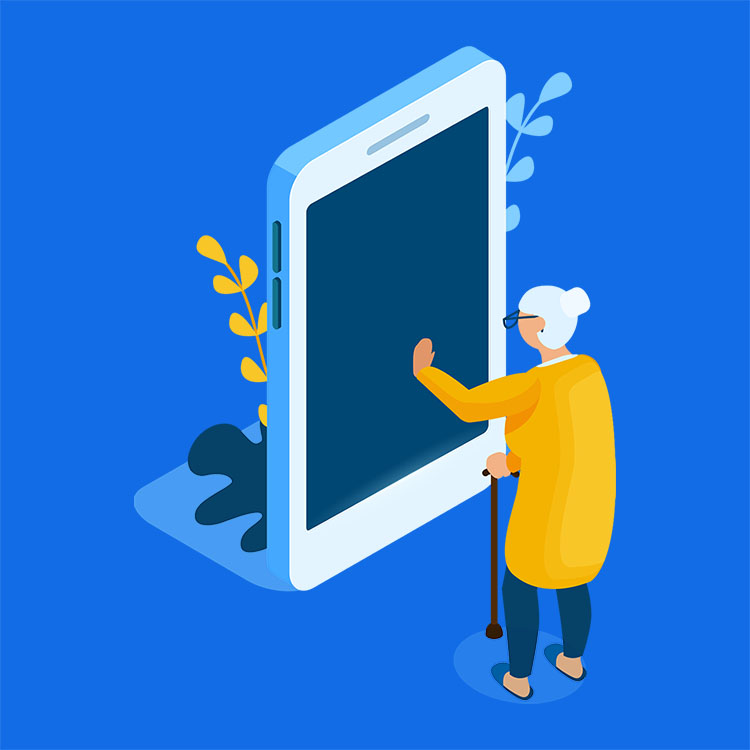 Tech help for Seniors by Seniors!
Helping seniors get their needs met online using mobile devices such as iPad or iPhone, tablets or smartphones.
Do you feel confused or that you don't understand when;
• You are told you need to go online to get the things you need and you don't know how to do it – or even know what it means
• Your kids have given you an iPad or tablet and you don't know how to use it
• That smartphone you were persuaded to buy just seems to be too smart for you
• Your parents (or kids or grandkids) live in another city or country and you'd love to be able to video chat to them on Skype or FaceTime
Collaboration to help overcome skills gap
To support Australian organisations to tackle the spike in cyber attacks, illuminance Solutions has partnered with the WA AustCyber Innovation Hub and Switched on Seniors. The Cyber Security solution led by illuminance Solutions will allow organisations to access cyber security expertise while their staff are trained by international experts while Microsoft technologies are implemented to fit each organisation's needs and requirements.



illuminance Solutions is a Microsoft Gold Partner and a 2019 Microsoft Global Partner of the Year: Partner for Social Impact.