In what is believed to be an Australian first, a new drone training program is making new technology more accessible to people with a disability.
Drones – Principles to Flight – An Accessible Training Program is a specifically designed course for people with mobility or dexterity impairment.
It aims to train attendees with the latest theoretical and practical aspects of drone piloting, upskilling them for employment opportunities.
Last Saturday the first class at Langley Park allowed students with a range of disabilities including Muscular Dystrophy, Spinal Muscular Atrophy, Cerebral Palsy and Quadriplegia to fly drones.
The course was made possible thanks to the collaboration between Western Electric Sporting Association, Techlearn and Illuminance Solutions.
WESA President Jack O'Keeffe said the course would have a range of benefits for attendees.
"People with severe disabilities are at risk of social isolation, often becoming less active in the community as their condition declines," he said.
"Children with disabilities are at greater risk of dropping out of school early and not pursuing further study or training.
"This course provides not only a social connection, but will open pathways to employment."
Techlearn CEO Pulkit Soni said the course had attracted strong interest from the community and we are excited to collaborate with Illuminance Solutions to deliver this training.
"Our inaugural class had eight students aged 14-49, which was our maximum capacity – we had more than 15 people wanting to participate," he said.
"While we have previously focussed on robotics, automation and drone training in the mining industry, this is the first time we will be training differently-abled people.
"Licenced drone pilots can work in a range of industries including video, photography, mining, surveying, farming, delivery and shipping – so this course will provide practical skills for future employment."
Illuminance Solutions has a long history in providing free digital literacy programs to marginalised sections of the community and will host the event free of charge.
"We believe everyone should have access to the latest technology training and technology opportunities and are proud to bring this latest initiative to the community," Illuminance Solutions CEO Nilesh Makwana said.
"People with disability bring valuable skills, experience and insight and are an integral part of a diverse and inclusive workforce that businesses should be aiming for."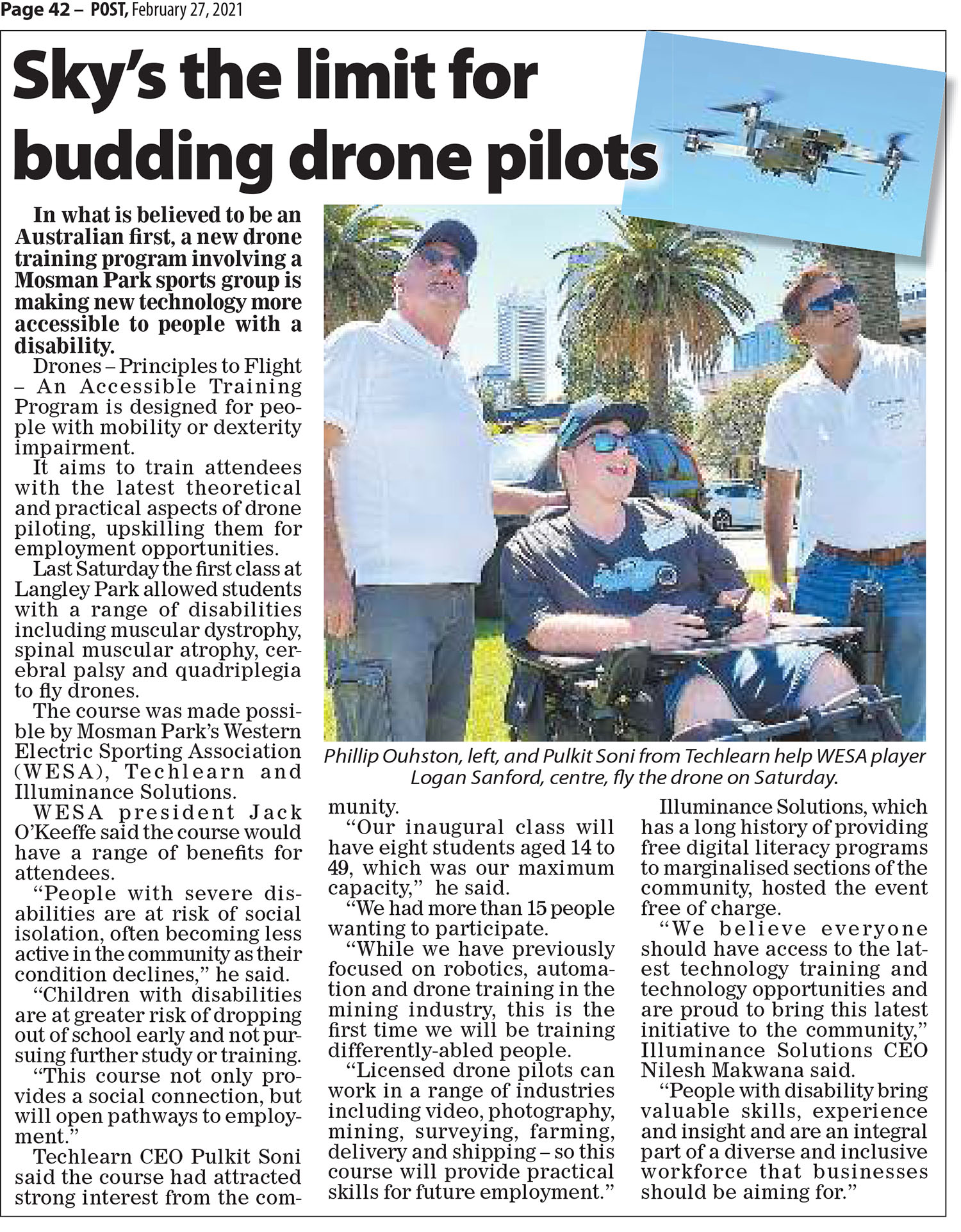 Printed and published by The Post 27 February 2021, page 42.