A group of keen learners with a hard drive to excel dialled up on their computer skills recently and imported a gigabyte of knowledge in a crash course on all things digital.
The University of Notre Dame Australia teamed up with Perth-based consultant illuminance Solutions to run the first of its two-day digital literacy classes at its Broome campus last week, aimed at tackling a gap in IT knowledge facing indigenous community members.
The program focused on essential tools including Microsoft Word, Excel, PowerPoint, email, online banking and information storage to bolster employability and skills of local Aboriginal people as the nation becomes increasingly digital.
Eighteen participants completed the course last Tuesday – the first of four expected to be held at the Broome campus this year.
Illuminance Solutions CEO Nilesh Makwana said he did not expect the level of turnout and engagement at the inaugural class. It was crucial to offer First Nations people equal opportunity in education and employment by boosting their computer skills, he said.
"Unfortunately, there is a digital divide emerging in Australia, particularly among Aboriginal communities with the problem compounded by the rapid rate of technological advancements," he said.
Biophysical and social scientist Dr Anne Poelina was one who completed the course, which she said had been helpful for her daily work. "I wanted a formal process for learning these sets of digital skills and came in with a very open mind about it," she said. "I picked up important ideas in terms of how to be more professional in the way I produce information." The 62-year-old said she had taught herself to use computers wen technology began to advance in the country.
University of Notre Dame Australia CEO Clare Stanford said digital literacy was a crucial component in tackling geographic disadvantage in the region. "Notre Dame's Brome campus has a mission to support reconciliation and we therefore have an important role to play in overcoming the challenges that many Kimberley people have in accessing and using digital technologies," she said.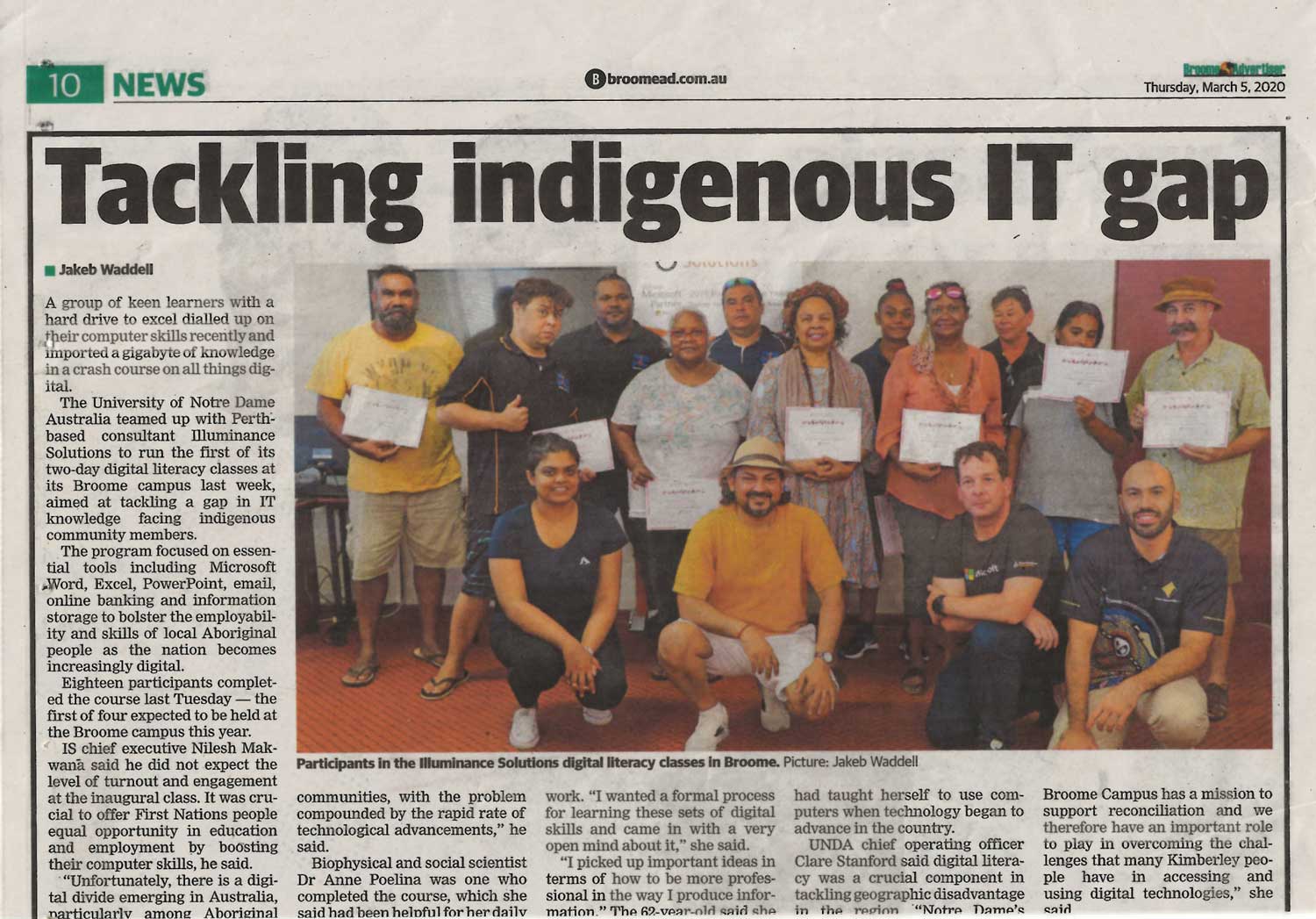 Published by broomead.com.au Thursday 5 March 2020. Written by Jakeb Waddell.