Harmony Week is a State Government multicultural community relations initiative and began as 'Harmony Day'. The United Nations' International Day for the Elimination of Racial Discrimination is included in Harmony Week and is celebrated on 21st March. The event was renamed Harmony Week to recognise diversity and multiculturalism, and inclusion activities that take place during the entire week. Harmony Week originated in Western Australia and is this State's seven-day celebration and recognition of our cultural diversity. Celebrating Harmony Week can take any form – big or small, simple or challenging. Events can be a simple multicultural morning tea or a guest speaker at an all staff meeting and the event creates an opportunity to think, talk about and recognise how our differences and our similarities make our workplace stronger.
With around 45 per cent of Australians born overseas or with at least one parent who was, Harmony Week has since its inception been a popular way for workplaces to showcase and acknowledge their cultural diversity, and to consider and celebrate the many benefits Western Australia gains from its culturally and linguistically diverse communities.
An integrated multicultural Australia is an integral part of our national identity. All people who migrate to Australia bring with them some of their own cultural and religious traditions, as well as taking on many new traditions. Collectively, these traditions have enriched our nation, and Harmony Week is an excellent opportunity to recognise this. With the current COVID-19 virus pandemic, public events are being cancelled or postponed. This includes, if not all of the scheduled events for Harmony Week 2020. Plus the fact that most people are self-isolated, we encourage people to remember Harmony Week and to be extra mindful towards each other.

The colour of communication
illuminance Solutions also align with Harmony Week in terms of its branding; orange is the colour chosen to represent Harmony Week and it is illuminance's primary brand colour, too! Traditionally, orange signifies social communication and meaningful conversations. It also relates to the freedom of ideas and encouragement of mutual respect. Australians can choose to wear something orange during Harmony Week to show their support for cultural diversity and an inclusive Australia (selfies on social media are encouraged, as most may be self-isolated and working from home. But it is no reason to skimp on celebrations and to oversee the importance of Harmony Week. Maybe this year it is even more important than before?)
There are some fascinating statistics about Australia's diversity that can be good conversation-starters:
nearly half (49 per cent) of Australians were born overseas or have at least one parent who was
we identify with over 300 ancestries
since 1945, more than 7.5 million people have migrated to Australia
85 per cent of Australians agree multiculturalism has been good for Australia
apart from English, the most common languages spoken in Australia are Mandarin, Arabic, Cantonese, Vietnamese, Italian, Greek, Tagalog/Filipino, Hindi, Spanish and Punjabi
more than 70 Indigenous languages are spoken in Australia.
These facts are taken from ABS 2016 Census Data. Check out the Australian Bureau of Statistics website.
Sources: www.harmony.gov.au/about & www.omi.wa.gov.au/
Western Australian Multicultural Awards 2020
For the Western Australian Multicultural Awards 2020 illuminance Solutions has been nominated in Category 6: Multicultural Business Award for its highly diverse and multicultural team. The awards ceremony has due to public safety, been postponed and we will enjoy being a nominee just a little bit longer.
Research indicates that businesses perform well when employees feel included and their workplace is strongly committed to supporting diversity, and at the heart of every business are the people behind it, regardless of where they are from. At illuminance Solutions, we pride ourselves on our commitment to our multicultural team as well as to our clients. We genuinely strive to develop trusted relationships, and to understand our clients' businesses and their goals, all while sticking to our values, being inclusive and showing cultural sensitivity.

International Mother Language Day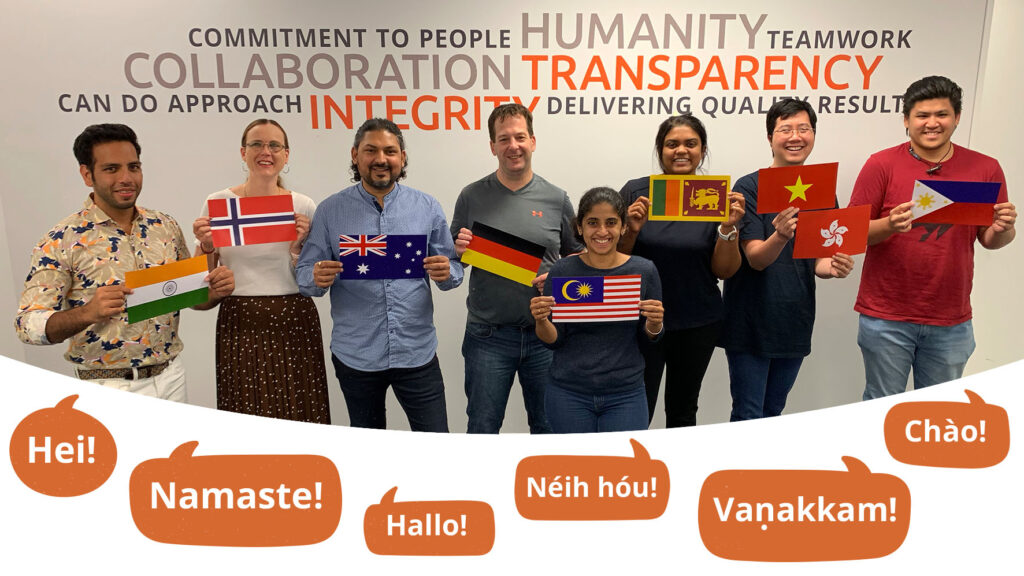 At illuminance Solutions we have a very diverse workforce with 19 nationalities, and we are a multilingual workforce. With the recent International Mother Language Day we threw a language party! Read the post here.
Office of Multicultural Interests have created a playlist with voices from across the globe to celebrate Harmony Week 2020.
Click the button below to check it out!
illuminance Solutions is a Microsoft Gold Partner and a 2019 Microsoft Global Partner of the Year: Partner for Social Impact.