This year, we will host the Microsoft Inspire 2020 Conference on 22 – 23 July at our HQ in Perth WA! This year, the keynote address with Satya Nadella – CEO Microsoft will have a view of the Swan River, we'll have break out sessions, food and learn about the latest innovations by Microsoft and how partners all over the world are contributing to the global community (including us!)
This means that we will be spending two days learning, breathing and living Microsoft (even more than usual) for two days and to be able to best do so; we will not conduct meetings either online or at our HQ. However, we will keep attending to our clients and keep our promises and uphold the agreed timelines for project deliveries. The conference is a golden opportunity for our team to enjoy the global celebration that the Microsoft Inspire Conference is, learn new about new technologies, host breakout sessions and interact with the global community to create new connections and opportunities, and last but not least; we will attend the Inspire 2020 award ceremony as we are a Microsoft Partner of the Year 2020: Partner for Healthcare Finalist!
The annual Microsoft Inspire Conference is an unmatched opportunity for Microsoft Partners to hear the latest innovations and strategy from Microsoft leaders, and learn from other partner organisations from around the world. Over the past ten years, nearly 130,000 people, representing more than 150 countries, have attended Microsoft Inspire and the conference is one of the most valuable ways we connect with other Microsoft Partners other every year.
Due to COVID-19, the conference has had to pivot and adapt to a format that suits the public more, keeping in mind the pandemic. All our team members will attend all sessions over the two days, along with special guests and breakout sessions.
"Although we won't be gathering together in person this year, I'm still really excited about how this virtual event will bring everyone together in new and innovative ways," – Gavriella Schuster, Microsoft Corporate Vice President | One Commercial Partner.
We're happy to announce that we've been recognised as a Healthcare Finalist for the 2020 Microsoft Partner of the Year Awards!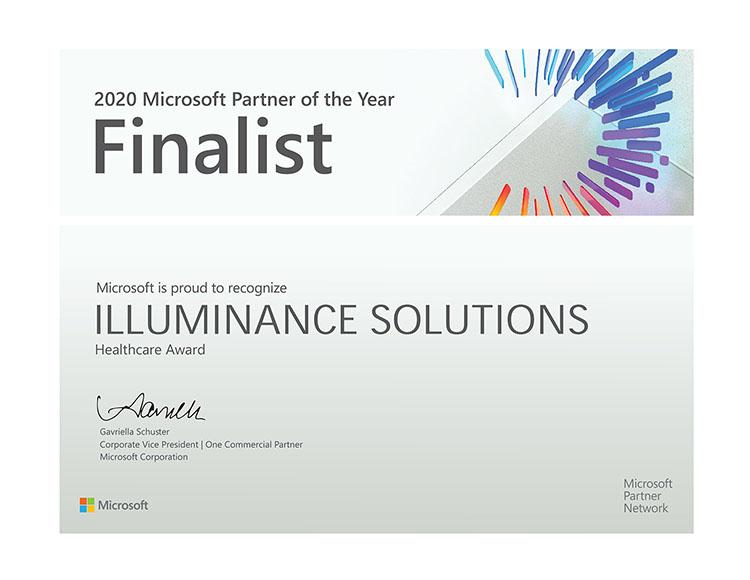 "It is a great pleasure to be able to publicly acknowledge that work through our Partner of the Year Awards. Working together over the coming 12 months I am confident we will build on this year's success and progress to even greater things. The immense impact that our partners have had, particularly in terms of supporting customers through the challenges of COVID-19 has been outstanding." – Rachel Bondi, Microsoft Corporate Vice President | One Commercial Partner to CRN 14 July 2020.
Microsoft said the finalists were selected based on their commitment to customers, their solutions' impact on the market, and exemplary use of Microsoft technologies.
We partnered our AvantCare platform with chemo@home to create a reliable, all-in-one, technology-driven solution for its at-home treatment service for cancer patients across Australia, including chemotherapy, immunotherapy, infusions, as well as medications for patients with other chronic diseases. Recently Microsoft published a case study on the partnership on their News page (see button below), on just one month later we are announced a Finalist in the Healthcare category in this year's Partner of the Year Awards!
"The AvantCare solution transformed chemo@home's digital processes. This was crucial to the delivery of our services when the COVID-19 pandemic emerged as we were able to rapidly onboard resources to cater to the significant rise in demand for at home-care for immunocompromised individuals." – Lorna Cook, Co-Founder and Company Director – chemo@home.

Last year, our CEO Nilesh Makwana attended the Inspire Conference in Las Vegas along with 130,000 people from all over the world to officially accept the Microsoft Global Partner for Social Impact Award 2019 on behalf of the illuminance Team. However, the real celebration happened at our HQ in Perth when we invited to an Award Celebration & Thank You Party in our office, to celebrate the award win and to thank everybody involved in Illuminance's journey. Amongst our guests were Hon Paul Papalia CSC MLA – Minister for Tourism; Racing and Gaming; Small Business; Defence Issues; Citizenship and Multicultural Interests and Rachel Bondi – One Commercial Partner Director, Microsoft Australia visiting from Sydney. Read the whole story here: Thank You Party or watch the video below.
illuminance Solutions is a Microsoft Gold Partner and a 2019 Microsoft Global Partner of the Year: Partner for Social Impact.