Best way to celebrate: Empowerment
This International Women's Day, Microsoft Australia invited women in the non-profit community, either staff or volunteers, to come and learn about PowerApps and how to build an "App in a Day"– and to help build a more equal and enabled world. Whether delivering a service to other women, with women or by women, all were warmly invited to Microsoft's free event to learn how to build an app in one day that will support the important work of their organisation.
So on Friday 6th March, our Project Manager & Consultant Mihi, ERP Consultant Swetha and Customer Experience Officer Priya attended the International Women's Day PowerApps Training at Microsoft's HQ in Perth WA. Because; what better way to celebrate than empowerment?
International Women's Day is powered by the collective efforts of all
Equality is not a women's issue, it's a business issue and gender equality is essential for economies and communities to thrive. The United Nations first celebrated International Women's Day during International Women's Year in 1975. By 1977, the UN and its member states proclaimed that 8th March would be an official day for women's rights and world peace and it is now observed all over the world.
International Women's Day takes place on 8th March every year and this year's campaign #EachforEqual draws attention to the difference individuals can make. By celebrating women's achievement, raising awareness of bias and calling out inequality, the campaign says, we can all help to bring about change and a variety of events, campaigns and gatherings are taking place all over the world in accordance with Women's Day.
Collective action and shared ownership for driving gender equality is what makes International Women's Day successful, and while the efforts are made every day 8th March is a great opportunity to focus a little bit extra on the issues around female inclusion and equality, celebrate women's achievement and raise awareness against bias. An equal world is an enabled world. So make International Women's Day your day and do what you can to truly make a positive difference for women.
At illuminance Solutions, we are very proud to have many strong and professional women in our team. We support and encourage their professional growth and offer training, industry participation beyond the four walls of our office and also flexibility in working hours to better achieve a work / life balance for those that have children. We believe in our women and support them to the fullest, and not only once a year, but every week and every day.
Women in Technology WA (WiTWA) is a peak body promoting women in technology and technology related industries in Western Australia. Our Project & Product Manager; Mihi and Graphic Designer; Lene contributed to some of WiTWA's programs last year; Mihi being a nominee in the 20 in 20 Awards 2019 and a speaker at the WiTWA [+] 2019 Conference, and Lene a speaker at Techtrails, WiTWA's STEM & Future Skills incursion program designed to encourage young people to consider careers in technology.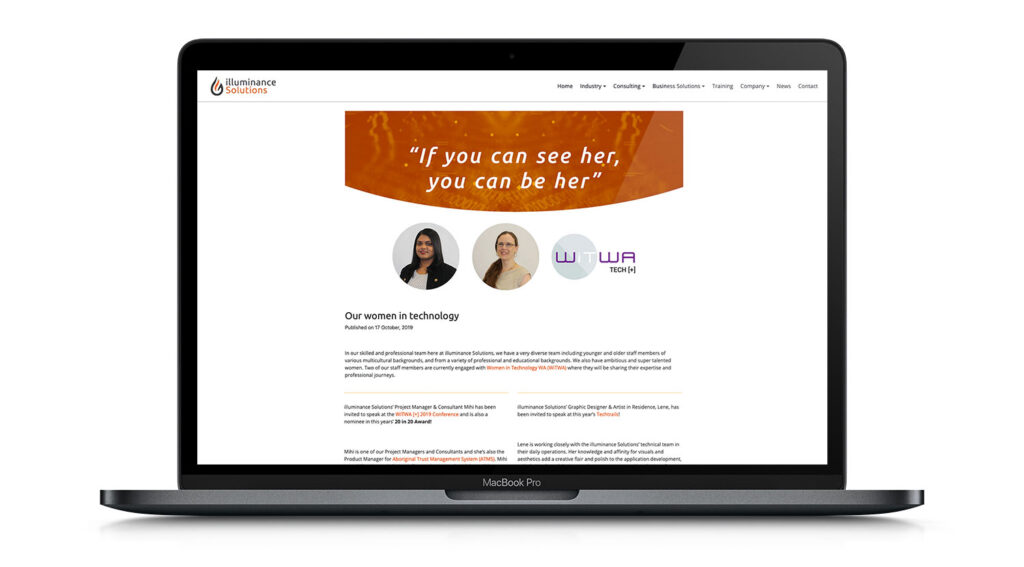 …that women are 47% more likely to suffer severe injuries in car crashes because safety features are designed for men? The positioning of head restraints as well as women's shorter height, different neck strength and musculature as well as preferred seating position means women are more susceptible to injury.
…33,000 girls become child brides every day. Globally, 12 million girls each year get married before the age of 18.
…it will take 108 years to close the gender gap at the current rate of progress.
…only 6 countries give women equal legal work rights as men; Belgium, Denmark, France, Latvia, Luxemburg and Sweden. (According to The World Bank's Women, Business and the Law report 2020.)
…22% of AI professionals are women.
…for every female character in movies, there is 2,24 male.
Sources: www.weforum.org and www.internationalwomensday.com
illuminance Solutions is a Microsoft Gold Partner and a 2019 Microsoft Global Partner of the Year: Partner for Social Impact.